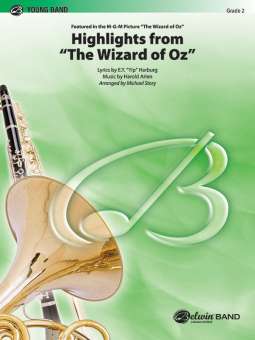 Highlights from The Wizard of Oz
Harold Arlen / Arr. Michael Story
Titel / Title: Highlights from The Wizard of Oz
Herausgeber / Publisher: Alfred Music Publications
Instrumentation: Concert Band
Produkttyp / Product: Partitur + Stimmen
ISBN: 9780757932496
UPC: 29156666175
This title is from the MGM's motion picture 'The Wizard of Oz'. The opening key is B-flat. The key changes at measure 41 to the key of E-flat, changing back to the key of B-flat at measure 93. The opening meter is 4/4, but it changes immediately at measure 5 to cut time with the half note equal to104 to 108 beats per minute. The meter changes at measure 41 to 6/8 and changes again at measure 120 to 4/4. The tempo also changes several times throughout.
Variety

Availability *
available in 7 days


Product information
Order id: 113525
Difficulty: 2
Duration: 4:05 min
Pages: 250
publisher id: 00-CB9733
EAN: 9780757932496
---
Demos
---
Other Customers were interested in
* Information on availability is based on previous experiences. Prices and availability are subject to change without notice!