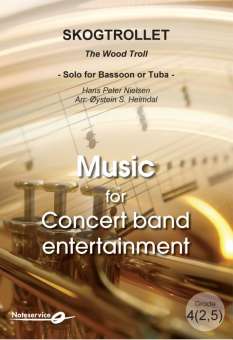 Skogtrollet (The Wood Troll)
Hans Peter Nielsen / Arr. Øystein Sjoevaag Heimdal
Concert Band Entertainment
The Wood Troll was composed in 1950 for bassoon solo with orchestra.
This arrangement can be played with bassoon- or tuba soloist. It's a funny and challenging piece for an intermediate soloist.
To the conductor
Please pay attention to the dynamics when the soloist play. To make shure that the balance between soloist and accompaniment is good, it's preferred to omit some players in the biggest sections of the band.
&ZEICHEN(10)Skogtrollet komponert av Hans Peter Nielsen for solo fagott og orkester ble utgitt i 1950.
Dette arrangementet for korps kan spilles med fagottsolo eller tubasolo. Et artig stykke og morsom utfordring for en flink fagottist eller tubaist.
Til dirigenten
Ta ekstra hensyn til styrkegrader i korpset når solisten spiller. Store grupper kan gjerne slankes noe på enkelte steder for å bedre balansen mellom korps og solist.
Availability *
available in 11 days


Product information
Order id: 173346
Difficulty: 2+
Duration: 3:04 min
Pages: -
publisher id: NOR 9790261710893
EAN: -
---
Demos
---
Other Customers were interested in
* Information on availability is based on previous experiences. Prices and availability are subject to change without notice!