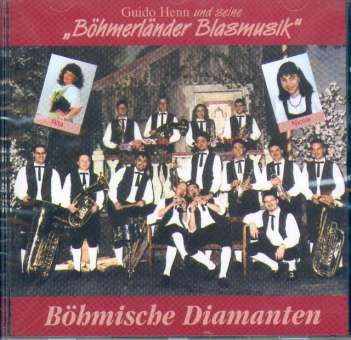 CD 'Böhmische Diamanten'
Guido Henn und seine Goldene Blasmusik
Inhalt / Content:

Böhmische Diamanten (Marsch)
Kleine Franziska (Polka)
Das gute Herz der Großmama (Polka)
Träumerei (Walzer)
Die Liebste (Polka)
Die gute alte Blasmusik (Polka)
Deutschmeister Regiments Marsch / In altbewährter Treue
Regenbogenpolka
Zwei Mexikaner in Böhmen (Solo für 2 Trompeten)
Heimatglocken (Walzer)
Nur Böhmisch muß es klingen
Mädels aus dem Böhmerland (Polka)
Abschied von Zuhaus (Polka)
Availability *
in stock | delivery time 1-2 days


Product information
Order id: 80409
Difficulty: -
Duration: --:-- min
Pages: -
publisher id: HR CD199901
EAN: 4025511804097
---
Demos
Attention: By clicking one of these hyperlinks you will leave our website.
We don't assume liability or warranty on the content of websites to which our site links directly or indirectly. Visitors follow links at their own risk.
---
Other Customers were interested in
* Information on availability is based on previous experiences. Prices and availability are subject to change without notice!