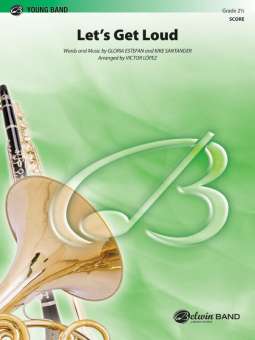 Lets Get Loud
Gloria Estefan / Arr. Victor López
Titel / Title: Let's Get Loud
Herausgeber / Publisher: Alfred Music Publications
Instrumentation: Concert Band
Produkttyp / Product: Partitur + Stimmen
Erscheinungsdatum / Date of Production: 2010
UPC: 38081389578

Serie: Young Band
From Jennifer Lopez' debut album, On the 6,this title is arranged in a Latin-rock style, thedriving pulse, hot melody, and syncopatedand explosive rhythms are non-stop from beginning to end, If you are looking for apiece that will get your audience dancingin the aisles, look no further, This one is hot!
Variety

Availability *
available in 5 days


Product information
Order id: 154080
Difficulty: 2+
Duration: 2:04 min
Pages: 142
publisher id: 00-32501
EAN: 9990091828069
---
Demos
---
Other Customers were interested in
* Information on availability is based on previous experiences. Prices and availability are subject to change without notice!