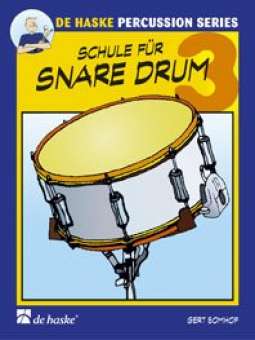 Schule für Snare Drum 3
Gert Bomhof
Titel / Title: Schule für Snare Drum 3
Herausgeber / Publisher: De Haske Publications
Instrumentation: Snaredrum
Produkttyp / Product: Buch
Serie / Series: De Haske Percussion Series
Sprache / Language: German
Format: 9 X 12 INCH
Erscheinungsdatum / Date of Production: 2006
ISBN: 9789043124409
Tom, der Schlagzeuger, begleitet junge Anfänger durch alle drei Bände der Schule für Snare Drum. Der dritte Band knüpft an die gewohnte Struktur von Band 2 an. Es gibt jede Menge Akzent- und Wirbelübungen, die wichtigsten Rudiments werden gezeigt, neue Taktarten erlernt und auch improvisiert. Mit der Schule für Snare Drum ist die Koordination von Timing, Technik und Klang bald kein Problem mehr!
Availability *
in stock | delivery time 1-2 days


Product information
Order id: 54086
Difficulty: 3
Duration: --:-- min
Pages: 64
publisher id: DHP 1063987-401
EAN: 9789043124409
---
Demos
---
Other Customers were interested in
* Information on availability is based on previous experiences. Prices and availability are subject to change without notice!