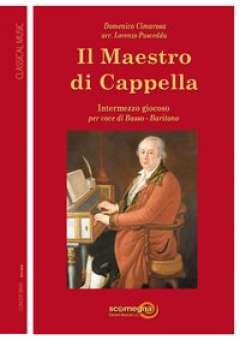 Il Maestro di Cappella
Domenico Cimarosa / Arr. Lorenzo Pusceddu
Untertitel / Subtitle:
Komponist / Composer: Domenico Cimarosa
Arrangeur / Arranger: Lorenzo Pusceddu
Instrumentation: Concert Band
Produkttyp / Product: Partitura e parti A4+ (24 x 32 cm)
Intermezzo gioioso, for Solo Bass or Baritone voice
Il Maestro di Cappella is an operatic intermezzo in one act by Domenico Cimarosa, probably composed between 1786 and 1793. The author of the libretto is unknown. Though often translated in English as The Music Teacher, the Italian term 'maestro di cappella' is the equivalent of the German 'Kapellmeister' (conductor of a choir or orchestra).
This amusing monodrama is settled for one singer, a bass-baritone, and portrays a pompous maestro rehearsing an orchestra, often imitating the sound of the instruments.
The text has been adapted to refer to the instruments of the concert band, making it also a useful and amusing piece to present to the public the various instruments that compose it.
CLASSICAL MUSIC
Intermezzo gioioso, for solo Bass or Baritone voice

Full score and parts A4+ (24 x 32 cm)
Il Maestro di Cappella is an operatic intermezzo in one act by Domenico Cimarosa, probably composed between 1786 and 1793. The author of the libretto is unknown. Though often translated in English as The Music Teacher, the Italian term 'maestro di cappella' is the equivalent of the German 'Kapellmeister' (conductor of a choir or orchestra). This amusing monodrama is settled for one singer, a bass-baritone, and portrays a pompous maestro rehearsing an orchestra, often imitating the sound of the instruments. The text has been adapted to refer to the instruments of the concert band, making it also a useful and amusing piece to present to the public the various instruments that compose it.
Availability *
available in 8 days


Product information
Order id: 188196
Difficulty: 4
Duration: 22'00 min
Pages: -
publisher id: ES B1499.28
EAN: 4025511320320
---
Demos
---
Other Customers were interested in
* Information on availability is based on previous experiences. Prices and availability are subject to change without notice!