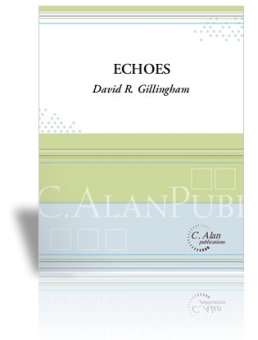 Echoes
David R. Gillingham
This fanfare and chorale for brass and antiphonal percussion captures the spirit of any range of celebratory event. The chorale harkens back to Elgar's ever-popular Pomp & Circumstance while blending with Gillingham's signature chromaticism. Perfect for your next graduation or commencement ceremony!
Brass & Percussion Ensemble
Instrumentation:
Bb Trumpet 1, 2, 3
Bb Echo Trumpet 1, 2, 3 (offstage)
F Horn 1, 2, 3, 4
Trombone 1, 2
Bass Trombone
Euphonium
Tuba
Piano
Timpani
Percussion 1 (3 toms, small bass drum, snare drum)
Percussion 2 (3 toms, small bass drum)
Percussion 3(vibraphone, xylophone, crash cymbals)
Percussion 4 (chimes)
Percussion 5 (bells)
Percussion 6 (crotales, suspended cymbal, tam-tam)
Availability *
available in 31 days


Product information
Order id: 62553
Difficulty: 4
Duration: 4:50 min
Pages: -
publisher id: CAP 06260
EAN: 804069062609
---
Demos
Attention: By clicking one of these hyperlinks you will leave our website.
We don't assume liability or warranty on the content of websites to which our site links directly or indirectly. Visitors follow links at their own risk.
* Information on availability is based on previous experiences. Prices and availability are subject to change without notice!