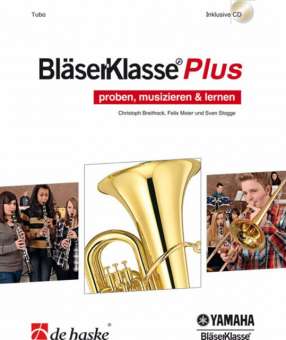 BläserKlasse Plus - 18 Tuba
Christoph Breithack Felix Maier/Sven Stagge
Titel / Title: BläserKlasse Plus - Tuba - proben, musizieren & lernen
Herausgeber / Publisher: De Haske Publications
Instrumentation: Concert Band/Harmonie
Produkttyp / Product: Buch + CD
Produkttyp / Product: Buch + CD
Sprache / Language: German
Format: 9 X 12 INCH
Erscheinungsdatum / Date of Production: 2012
ISMN: 9790035222317
ISBN: 9789043140621

BläserKlassePlus ist eine Sammlung von 15 ausgesuchten Arrangements mit großer stilistischer Bandbreite aus den Bereichen Sinfonisches Blasorchester und Big Band. Alle Arrangements wurden sachgerecht für eine erweiterte BläserKlassen-Besetzung eingerichtet und nach ansteigendem Schwierigkeitsgrad angeordnet. Dadurch ist BläserKlassePlus als Spiel- und Lehrmaterial für jedes Jugendblasorchester und für weitere zwei Jahre Unterricht im Anschluss an Essential Elements - Die komplette Methode für den Unterricht in Schulen und Blasorchestern geeignet. BläserKlassePlus bietet fertig ausgearbeitetes Unterrichtsmaterial für ansprechende Unterrichtseinheiten, besonders wenn die innovativen Orchester- bzw. Warm-up-Studien zum Einsatz kommen. So muss der Lehrer nicht erst nach Material suchen und didaktisch aufbereiten, sondern kann den größten Teil der Unterrichtszeit für das Wichtigste nutzen: spielen, spielen, spielen.Der Partitur und jedem Stimmenheft liegt eine Demo-CD bei.


Inhalt /Content:

• Spirit of New Orleans Paul Murtha
• Fires of Mazama Michael Sweeney
• Williams Byrd Portrait Williams Byrd / Johnnie Vinson
• Swiss Whistele Gilbert Tinner
• On Broadway Mann/Weil/Stoller/Leiber/ Michael Sweeney
• Moanin' Timmons / Michael Sweeney
• Oye como va Tito Puente / Paul Murtha
• As Winds Dance Samuel R. Hazo
• Sinfonie Nr. 1 Thema aus dem Finale Johannes Brahms / Joy Bocook
• Bilder einer Ausstellung Modest Mussorgsky / Michael Sweeney
• Shackleford Banks Jay Bocook
• What'd I Say Ray Charles / Michael Sweeney
• September White/McKay/Willis / Peter Blair
• Can't Buy Me Love Lennon/McCartney / Michael Sweeney
• Soul Bossa Nova Quincy Jones / Rich Stitzel


Lieferbare Produkte / available Products:
Availability *
available in 7 days


Product information
Order id: 15988118
Difficulty: -
Duration: --:-- min
Pages: 60
publisher id: DHP 1125144-400
EAN: 9790035222317
---
Demos
---
Other Customers were interested in
* Information on availability is based on previous experiences. Prices and availability are subject to change without notice!