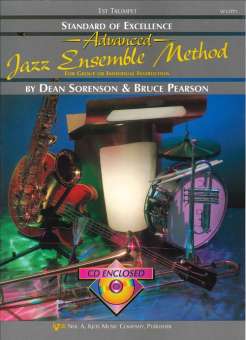 Advanced Jazz Ensemble Method + CD - Trumpet 1
Bruce Pearson / Dean Sorenson
The Standard of Excellence Advanced Jazz Ensemble Method continues the successful jazz instruction presented in the Standard of Excellence Jazz Ensemble Method. Designed as a comprehensive jazz instruction book, it can be used by students who have completed the Standard of Excellence Jazz Ensemble Method, or students with intermediate level instrumental skills and at least one year of jazz ensemble experience.
Building upon the rhythmic skill introduced in the first book, the ADVANCED series focuses on teaching improvisation. Concepts introduced and reinforced in IMPROVISATIONS STUDIES and ADVANCED IMPROVISATION STUDIES are applied in charts designed to be played by the full jazz ensemble. In addition students and directors will find: Increased emphasis on improvisation; Advanced improvisation studies; Longer charts; Wider instrumental range; More independence of section. Each book comes with an accompaniment CD, continuing the non-theoretical and aurally based approach of the first book. Directors will find the Director's Score to be an invaluable resource of jazz pedagogy. Parts available for flute, clarinet, french horn, and tuba ensure that the study of improvisation is also accessible to students of non-traditional jazz instruments.


Availability *
in stock | delivery time 1-2 days


Product information
Order id: 466535
Difficulty: -
Duration: --:-- min
Pages: -
publisher id: KJOS W35TP1
EAN: 9780849725555
---
Demos
---
Other Customers were interested in
* Information on availability is based on previous experiences. Prices and availability are subject to change without notice!