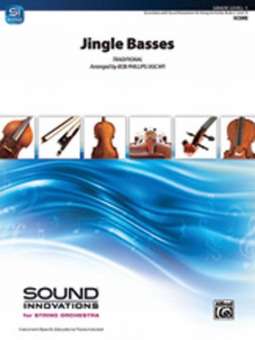 Jingle Basses (s/o)
Bob Phillips
Titel / Title: Jingle Basses
Herausgeber / Publisher: Alfred Music Publications
Instrumentation: Streichorchester
Produkttyp / Product: Partitur + Stimmen
Produkttyp / Product: Partitur + Stimmen
UPC: 38081459738
Series: Sound Innovations for Strings
Category: String Orchestra
Format: Conductor Score & Parts
Instrument: String Orchestra
Level: 1
Cute, fun, and a true grade 1 bass feature! What more could you want? Encourage the bass players by showing them off. The bass parts are very simple, but the basses also play jingle bells in a surprise twist at the end of the piece. Brainstorm ideas to dress this piece up. Some suggestions are to put Santa hats on the bass players or the scroll of the basses. You could even put Christmas lights or stockings on the bass or stands. Bring the bass players up front. Have some bells on each bass stand where the audience can't see them. Then, when the time is right, the bassists pull out the bells and jingle away! Correlates to Sound Innovations Book 1, Level 3.
Variety

Availability *
available in 11 days


Product information
Order id: 4592
Difficulty: 3
Duration: 1:45 min
Pages: -
publisher id: 00-40454
EAN: 038081459738
---
Demos
---
Other Customers were interested in
* Information on availability is based on previous experiences. Prices and availability are subject to change without notice!