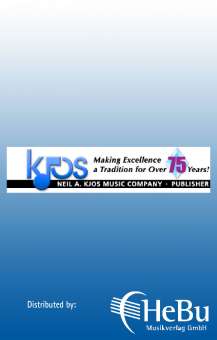 Celebration In Brass
Andrew Boysen jr.
Celebration in Brass was originally conceived as a fanfare for brass choir to be used during a church performance. The work was expanded to a full-length concert piece with the inclusion of a slower section and a return to the opening material. The finished work, though larger in scope than a fanfare, should still retain a fanfare's jubilant, festive character.
Availability *
in stock | delivery time 1-2 days


Product information
Order id: 463015
Difficulty: 3+
Duration: 4:34 min
Pages: -
publisher id: KJOS E1451
EAN: 9990092445517
---
Demos
* Information on availability is based on previous experiences. Prices and availability are subject to change without notice!