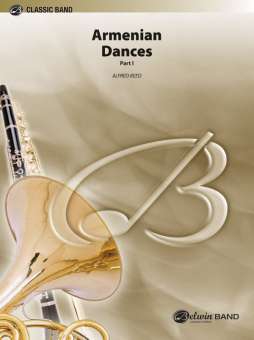 Armenian Dances Part 1
Alfred Reed
Titel / Title: Armenian Dances, Part I
Herausgeber / Publisher: Alfred Music Publications
Instrumentation: Concert Band
Produkttyp / Product: Partitur + Stimmen
Erscheinungsdatum / Date of Production: 2002
ISBN: 9780757932571
UPC: 654979034162

Belwin Classic Band
Based on authentic Armenian folk songs collected by Komidas Vartabed, this work has been expanded through contemporary use of rhythmic, harmonic, and melodic content to showcase the modern wind band. A wonderful staple in wind literature.
Variety

Availability *
available in 8 days


Product information
Order id: 98557
Difficulty: 5
Duration: 12:01 min
Pages: 410
publisher id: 00-BDM02031
EAN: 654979034162
---
Demos
Attention: By clicking one of these hyperlinks you will leave our website.
We don't assume liability or warranty on the content of websites to which our site links directly or indirectly. Visitors follow links at their own risk.
---
Other Customers were interested in
* Information on availability is based on previous experiences. Prices and availability are subject to change without notice!