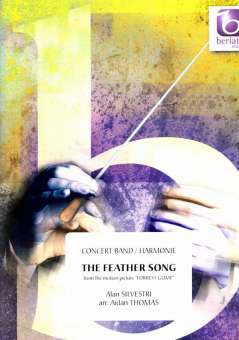 The Feather Song (Forrest Gump)
Alan Silvestri / Arr. Aidan Thomas
Titel / Title: The Feather Song - from the motion picture Forrest Gump
Herausgeber / Publisher: Beriato Music Publishing
Instrumentation: Concert Band/Harmonie
Produkttyp / Product: Partitur + Stimmen
Sprache / Language: English-German-French-Dutch
Format: 9 X 12 INCH
Erscheinungsdatum / Date of Production: 2010
ISMN: 9790365201099
Dieses prachtvolle Thema ist untrennbar verbunden mit Tom Hanks, der die Rolle des Forrest Gump fantastisch ausfüllte. Die Szene, in der er auf einer Bank sitzt, als eine kleine weiße Feder auf ihn hernieder schwebt, kennt einfach jeder.
Variety

Availability *
in stock | delivery time 1-2 days


Product information
Order id: 154508
Difficulty: 2+
Duration: 4:56 min
Pages: -
publisher id: BMP10021474
EAN: 9790365201099
---
Demos
Attention: By clicking one of these hyperlinks you will leave our website.
We don't assume liability or warranty on the content of websites to which our site links directly or indirectly. Visitors follow links at their own risk.
---
Other Customers were interested in
* Information on availability is based on previous experiences. Prices and availability are subject to change without notice!