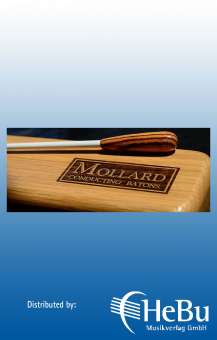 Mollard Taktstock - Modell Lancio - 14 inch (ca 35,5 cm) - Carbon - silver
Our Lancio® batons have a bold appearance, and an equally bold feel. The handles are turned from aluminum alloy, then hardened in a process called anodizing. While the overall weight of the Lancio baton is greater than our wood batons, the majority of the mass is located in the handle, hence in your fingers. This mass provides a damping action to the movement of the baton that defies description. You simply have to feel it! All Lancio® Batons are fitted with our gorgeous pearlescent white carbon fiber shafts.
Variety

Availability *
not available in our webshop

Product information
Order id: 718941
Difficulty: -
Duration: --:-- min
Pages: -
publisher id: CF 14 Inch / 35 cm
EAN: 4025511220477
---
Demos
---
Other Customers were interested in
* Information on availability is based on previous experiences. Prices and availability are subject to change without notice!