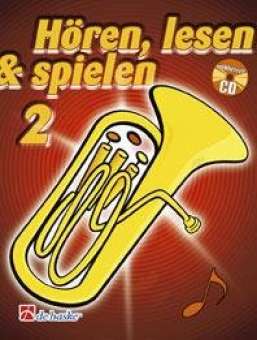 Hören, Lesen & Spielen - Band 2 - Bariton / Euphonium C BC
Joop Boerstoel / Arr. Jaap Kastelein
Titel / Title: Hören, Lesen & Spielen 2 Bariton/Euphonium in C BC - Schule für Bariton / Euphonium in C BC
Herausgeber / Publisher: De Haske Publications
Instrumentation: Bariton oder Euphonium (Bassschlüssel)
Produkttyp / Product: Buch + CD
Serie / Series: Hören, Lesen und Spielen
Produkttyp / Product: Buch + CD
Sprache / Language: German
Erscheinungsdatum / Date of Production: 2000
ISBN: 9789043109147
ISBN: 9789043162739
ISMN: 9790035248447

Hören, lesen & spielen ist die individuelle Bläserschule für dreizehn verschiedene Instrumente, die im Einzel- oder Gruppenunterricht eingesetzt werden kann. Die bewährte Methode ist nach den gegenwärtigen Regeln und Ansprüchen der Musikerziehung zusammengestellt. Sie enthält viele Spiele, Puzzles, Hörübungen, Lieder und Originalkompositionen. Mit der Begleit-CD macht das Üben natürlich doppelt Spaß!

Im zweiten Band steht neben der rhythmischen Erweiterung auf Sechzehntel und der Einführung des 6/8- Takts auch die chromatische Erweiterung des Tonumfangs auf dem Programm. Instrumentenspezifische Übungen und Spieltechniken, wie z. B. Aufwärmtrainings, Ansatzübungen, Überblasen, Buzzen, Lippenbindungen u. v. m. machen die jungen Bläser fit.



Availability *
in stock | delivery time 1-2 days


Product information
Order id: 49905
Difficulty: -
Duration: --:-- min
Pages: 52
publisher id: DHP 1001994-400
EAN: 9789043109147
---
Demos
---
Other Customers were interested in
* Information on availability is based on previous experiences. Prices and availability are subject to change without notice!